Rosalía's "El Mal Querer" puts a beautiful twist on flamenco
Elena Garica Tapia, Assistant Online Editor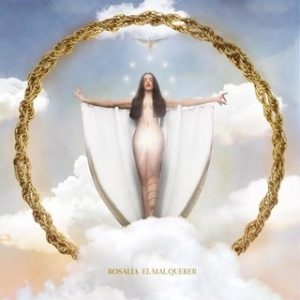 The sound of guitars, claps, and synthetic drums from the newest album by Spanish flamenco-pop artist Rosalía urges you to get up and dance. Her highly anticipated album El Mal Querer has left quite an impact on the music industry since its release in November, with some critics declaring it as one of the best albums released this year. Literally translating to The Bad Desire, this album explores a relationship that is falling apart through songs that symbolize a different chapter of the story.
In this album, Rosalía elegantly sings about topics such as romance, loneliness, and jealousy. She compliments these lyrics by mixing flamenco with an urban-electronic sound. The production of the songs are phenomenal, with one of the most surprising elements of this album being heard on the song "De aquí no sales". In this song, about 30 seconds in, the sound of the revving engines of vehicles is used to make the beat of the song, to then be replaced by the sound of claps and stomps. She also utilized samples in this album, such as Justin Timberlake's "Cry me a River" in her song "Bagdad".
My favorite aspect of this album is her way with words. For example, "Malamente" is the title of one of the leading singles from this album, but some may not know how complicated the definition of this word might be. Malamente can be interpreted as meaning something similar to "badly", but it can also be interpreted as mala mente, meaning "bad mind". Even though I am a native Spanish speaker, Rosalía utilizes slang and terms commonly used in Spain that I'm not necessarily used to, so I had a little bit of trouble understanding everything she meant. Truthfully, I appreciate her decision to stay in touch with her roots because she exposed me to a world I know very little about. Nonetheless, her lyrics are poetic in sound and flow, causing all kinds of emotions to course through my veins. One of my favorite verses of hers is in the song "Pienso en tu mirá", in which she sings "When you leave for the door / I think that you'll never return / And if I don't hold onto you tight / I feel that it'll be my fault".
El Mal Querer is a gem of an album that's been making waves throughout Europe and Latin America, and rightfully so. This album is perfect for those who seek a new sound and appreciate the blending of genres. I don't believe you have to be a fluent Spanish speaker in order to appreciate this album. With Rosalía's excellent execution of beats and her velvety voice, anyone will easily be able to feel the amount of raw emotion that pours out of this work of art.