Families welcome furry quarantine companions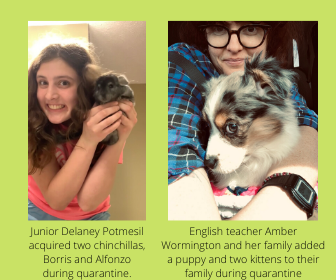 By Sydney Mejia
People across the nation have been left with not much to do for the past several weeks due to being stuck in quarantine. Constantly being tired of doing puzzles, board games and rewatching shows all day long, there just needs to be a sense of change for some. For many, the time seems to be perfect for getting a pet. 
"We have been dreaming of a puppy for about a year, so when quarantine started looking more long-term, we decided it would be a great time," English teacher Amber Wormington said.
It wasn't just a puppy either, she managed to get two kittens as well.
"The two kittens we acquired during quarantine were in a litter born under our neighbor's shed," Wormington said. "When the universe brings you kittens in quarantine, you don't get to say no," she said. 
For junior Delaney Potmesil, she wanted something unique and decided on getting a chinchilla. 
"I've always wanted a chinchilla, and it just so happened that I saw an ad for some, so I took it as a sign," Potmesil said. "I wasn't too serious about it until I saw them in person, but then I knew I had to get one," she said.                 
It wouldn't hurt to get more than one though, right?
"My sister was there, and she convinced me to get two," Potmesil said.
What makes this pet so unique to any other common household pet is the fact that they tend to be awake during the night.
"I stay up a few hours late each night to play with them and let them out of their cage," Potmesil said. "I'm a night person so it doesn't really bother me," she said.
Her other pets don't seem to care too much for them though.
"Malone, one of my dogs, was a little excited at first, but they don't phase him now," Potmesil said.
There is plenty to do when taking care of chinchillas because they are definitely like no other.
"My favorite part about them is that they are super different compared to other pets," Potmesil said. "They are super soft, jump super high, and play at night," she said.
While being stuck in quarantine, there is still a lot to learn from our little furry friends.
"I think one thing we learned during this time is that love and connection are our only infinite resources, and very often, they are the only thing we should be prioritizing," Wormington said. "Our three new animals have brought even more love and connection to our home," she said.