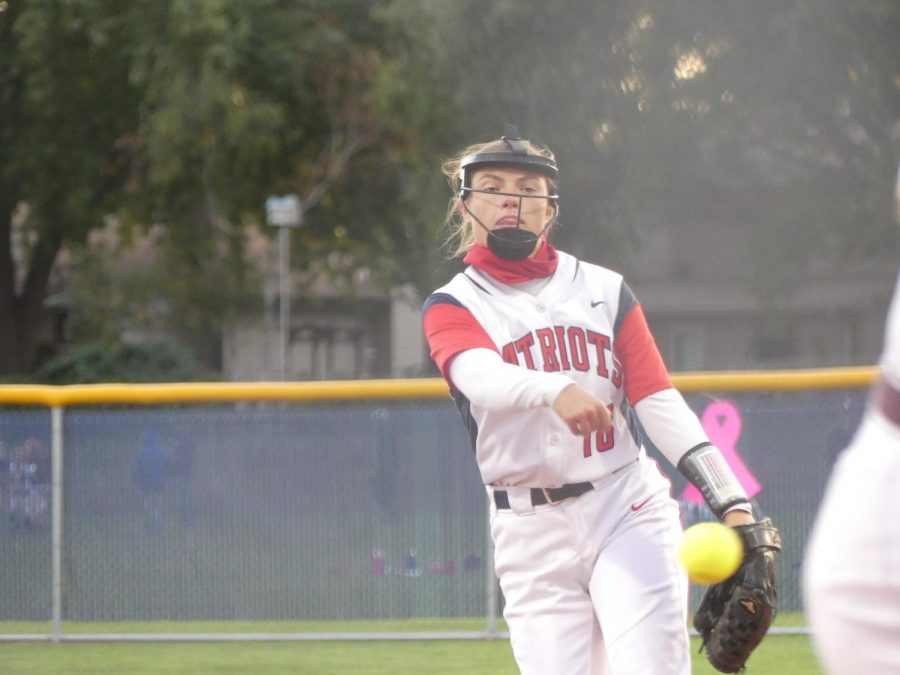 Athlete: Jackie Morrissey, Class of 2021
Team: Varsity Girls Softball
"I have played softball for about 12 years now. I started playing at the age of 5 playing tee ball," said Morrissey. "I have played with MAA Sizzle, Team Nebraska, UFA Thunder, Iowa Premier, Nebraska Gold, along with Millard South."
Position: Pitcher and First Base
Number: 18
"For Millard South, I played JV my freshman year, then swinger for my sophomore year, both JV and varsity, and junior and senior year full varsity," said Morrissey.
Although Jackie has been playing softball almost all of her life, it hasn't always been easy.
"One thing that I struggle with is having the motivation to play," said Jackie. "I especially struggled with it this last summer when I was playing club ball. When COVID-19 hit and everything got shut down, it made me realize what my life would be like without softball. When states started opening up and we started practicing and playing again, it was hard to get back into a good mental state. What really helped me was hanging with my teammates, talking to my parents, and finding a good purpose of why I should be playing."
This past season, Morrissey stayed motivated "by being the only senior on the team." "I continued to stay in the Millard South program because I didn't want to show my teammates that I was giving up on them," said Morrissey.
"What keeps me focused during the game might sound crazy, but I like to talk to myself; I try to calm myself down," said Jackie. "I also like to look at my catcher. When Avery would point at me and then at her and would say, 'Just me and you,' it really helped calm the situation." 
Her favorite things about –
Softball: "meeting new friends and going to different states and places that you've never been to."
The Millard South Team: "was how close we were as friends and teammates. It made us have more of a connection and made it more fun to play."
The Coaches: "is how fun it is to be around them. A lot of people don't actually see their true personality."
One of Jackie's favorite memories was one of the team's many games against Millard North.
"This season, we played them 5 times, which is a lot. This game was special because we were at home, it's a Millard vs Millard game, and for me, it was a redemption game," said Morrissey. "The last time we played Millard North, I didn't pitch very well and we lost. This game was to show that we are the better team. There were hits, strikeouts, and errors by both teams. At the end of the 1st inning, the score was 1-1. We scored 3 more in the 4th, making the score 4-1. Once you get to the 5th inning, we like to call them money innings. At the top of the 6th with Millard North at-bat, they got a rally going. They scored 3 to tie up the game 4-4. Knowing that after the first half of the inning they had the momentum, we knew we had to shut them down. Scoring 6 at the bottom of the 6th made us feel more confident and relaxed. Not letting them score, we won 10-4."
"My mentors would be Jayme Horan and Roni Foote," said Jackie. "Even though they are not here this season, I have always looked up to them for their leadership on and off the field."
Morrissey said, "During the time that we are living in, you never know when your season is going to end, so always be grateful for your opportunities and never leave a practice thinking to yourself, 'Did I give my all today?'"
On Oct. 18, Morrissey announced her commitment to Nebraska Wesleyan University to further her academic and softball career. Good luck and go Prarie Wolves!