Senior year is typically a bittersweet time for most high school students when they experience their last lasts. But for the softball seniors, this year has quite a rewarding ending.
The 2023 season brings a lot of impressive accomplishments to some of its players. Two notable seniors are Bree Urban and Bri True, who are doing some amazing things for the program.
"I am breaking the doubles record and the batting average. The doubles are 23, I tied it last year but I'm going for 25 this year. And the batting average, I batted .618 last year and I'm hoping to bat at least .650 to .700," Urban said.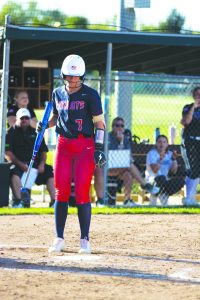 This doesn't come easy though. A lot of hard work in the offseason and game preparation is crucial for something like this.
"In the offseason, I trained at least two times a day and then I will hit at least an hour to two hours after dinner," Urban said. My pregame, I usually like to have the pitching machine, I'll hit a round of those and I'll do some 'feel good' toss," she said.
In addition to the records Urban is anticipating, True tied an NSAA state record by hitting three home runs in one game this season against North Platte at the Bellevue East tournament.
"It's a motivator, because I don't really try to focus on anything," True said. "I just tried to hit the ball and it just goes where it goes," she said.
With great triumph from individual athletes, the softball program as a whole is reaching its own milestones.
"When we played Omaha Benson, on the 28th of August, that was the 700th overall win for our entire program," head varsity coach Steve Kerkman said. "When we played Omaha Duchesne, that was the 1000th game in the history of Millard South softball."
Kerkman is hitting some notable milestones of his own this season.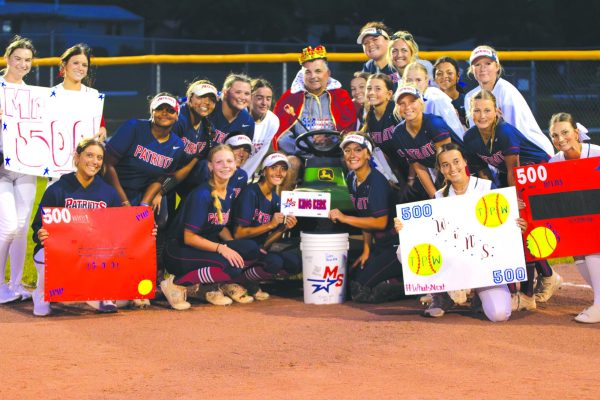 As head coach, Kerkman hit his 500th win in a game against Omaha Central on Sept. 5. While Kerkman secured his 500th win, that is not the only thing he achieved during that game.
"Last night [Sept. 5], coincidentally, was also the 700th game I've ever coached. So I got the 500th win in  the 700th game I coached."
Continuously hitting big milestones comes with a lot of motivation. That is a big part of what Millard South softball builds off of.
"We have a saying this year, kind of our hashtag is 'What's Next?' And it just keeps us going. If there's adversity or even some of these milestones, it's always like, what's next? What can you do next for the team and the program? So me as a head coach, you kind of have to live it to teach it. That's what keeps us going," Kerkman said.