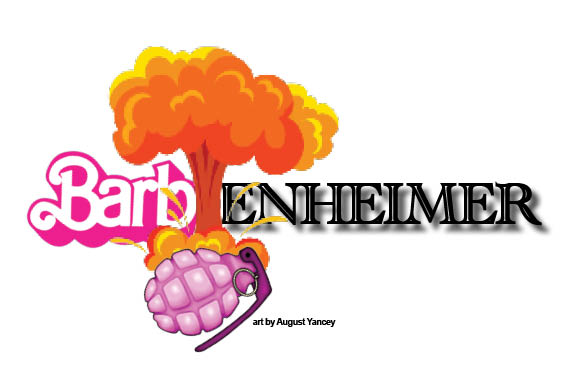 Oppenheimer is a tale of entanglement between science and humanity, one that reaches out of the screen, with its immersive audio, eye-catching cinematography, incredible performances and soul wrenching music, continuously refusing to let go of you. It's a film that captures your heart and mind, toys with it, and makes you ask questions both about the film, but also about the terrifying reality of the world we live in. Although this film is filled with things which I usually find obnoxious in many newer films with it being overly chaotic, fast paced, tense, and quite literally one of the loudest movies I've ever heard, it's because of these characteristics that I love it, thanks to the groundbreaking camera work by Hoyte Van Hoytema and the incredibly tense soundtrack by Ludwig Göransson.
The movie isn't just a technical masterpiece, though. The writing and directing, both done by the world class director Christopher Nolan (director of films 'The Dark Knight Rises' (2012), 'Interstellar' (2014), and 'Inception' (2010) is beyond incredible, guiding you through the journey of diving into the mind of the man the film is named after, J Robert Oppenheimer, played by the incredibly underrated actor Cillian Murphy. 
Another great thing Nolan does in his writing is making you feel like every character really matters. This emphasis on each line of dialogue, and the weight they hold, helps connect the film to the realism and magnitude of every opinion and fact brought up in the film. How everything that happens in this film isn't just used to progress the plot and story. It helps remind the audience that everything that happens helped shape the world, and its political landscape, of today. This can be seen in the use of characters like Edward Teller, a character most of the audience will overlook, but in reality his world changing theory of hydrogen bombs helped propel nuclear science and artillery to a whole new level. This can also be seen with the character Ernest Lawrence, who invented the cyclotron, which we still use today to help treat cancer. 
This film is Nolan's magnum opus. Although his other films like 'Inception' and 'Dark Knight Rises' may be more enjoyable and more action packed, none of them is as artistic and creatively put together as the film 'Oppenheimer'. And not one of them will have you sitting in your seat silently and anxiously, like the way this film does. You see, Nolan didn't just make a movie that is a blast to watch. He made a historically accurate cult classic. He made a movie about the conflicted and troubled life of J. Robert Oppenheimer, who is in my opinion, one of the most important people to have ever lived.