South closes doors for option enrollment
Miriam Cortes
Staff Reporter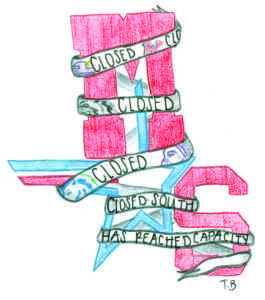 For the first time in years, Millard South has closed enrollment for potential students residing outside the designated attendance zone. If an incoming student were to apply to attend Millard South but lived outside the mandated boundaries, they would be denied admission.
The freshman class currently has about 625 students, which is partially due to the new programs such as ROTC, College Possible, and Early College High School. According to Principal Heidi Weaver, the biggest contributor to the increase is the boundary redraw.
Before the map was, students were opting to attend Millard West and Millard North even though they lived closer to Millard South. Because of this, Millard South now has the biggest and most populated boundary out of the three schools.
Millard South registrar Matt Fedde also commented on closed enrollment and the increase in school population.
"We hit a quota number of students that the district approved and said we will no longer accept new enrollment students this year."
This is due to the number of students per teacher; Millard South simply doesn't have enough teachers at this time to accommodate the growing student population, he said.
Ultimately, the district has the final say when it comes to closing enrollment, and they are expecting the same number of incoming freshman next year. Due to the increase, the district will most likely have to hire more teachers. The district requires an average class ratio of 1:20, but with the addition of so many students, more staff will be needed to meet this goal.
For this freshman class there is absolutely no space remaining for open enrollment. According to Rebecca Kleeman, Communications Director for the district, "It is very likely that next year we will have to close enrollment again for incoming freshmen after the capacity is met."
With expanding the school's student body comes consequences: lunch is more crowded, the halls are packed, and students hoping to change their schedules are finding that class sections are full. This year the impact is concerning, but not detrimental. However, in the near future the district and school will be forced to accommodate to the growing numbers.