South defines mastery in August: Common Sense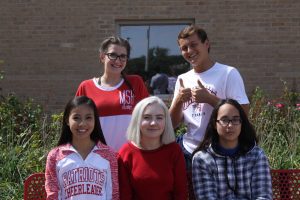 By Kristin Kaipust
While some students groan at the mention of Vocabulary.com, few are upset at the win of the August vocabulary bowl. The competition, starting at the beginning of the month, began supremely relaxed. AP Lang and Lit students had been assigned lists of 200 or so words over the summer and had showed average scores throughout June and July. Word mastery spiked in August, however, as students picked up the pace from the early months and reached the top of scoreboard. "I started my lists the day before it was due," junior and AP Lang student Josh Reuting said. This seemed to be the case with many students. Thus, word mastery boomed.
After noticing the lead, South's AP Lang teachers pushed to maintain it. This involved an ongoing battle with Floyd Central High School in Indiana as well as a couple close calls with Etiwanda High School in California.
"Being against another school feeds our fire more and makes us really want to get ahead," junior and AP Lang student Ricki Nguyen said. Nguyen made top 5 within Millard South with a total of 688 words mastered. The other medalist included Savannah Lacy with 854 words, Bryan Botkin with 840 words, Myranda Carbullido with 624 words, and Shelby Tomasek with 443 words. Many students and teachers within the school had become very invested in the bowl. AP Lang teacher and vocabulary.com enthusiast Christine Kaldahl is famous for her unrelenting encouragement throughout the month. "She is very passionate and her enthusiasm drove us to championship," Reuting said. To earn points, students "play" lists. As words on the list are mastered, points are scored for the school. Millard South mastered a total of 49,677 words. Comparatively, Etiwanda High School finished with 40,699. A continual champion in Nebraska, South has dominated the leaderboard against schools such as North Platte (825) and Millard West (235). Millard South will be awarded a banner from vocabulary.com and will also be featured on their blog this month.The top five students will receive medals.