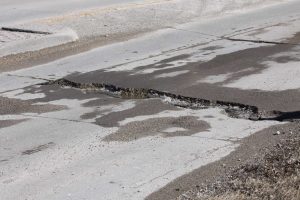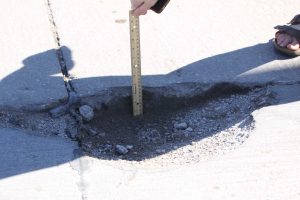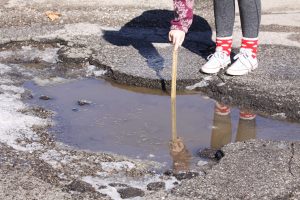 Taryn Smith
Staff Reporter
As Nebraska nears the end of winter, the citizens of Omaha face new perils: pot holes. These craters plague the city's streets and create serious hazards for drivers.
In Omaha, driving is virtually the only option for transportation, so this time of year can be frustrating for those who spend lots of time commuting back and forth between work or school.
The students of Millard South have not been immune to this problem.
"I was turning left from 144th Street onto Q and I saw this massive crater in the ground and I tried to swerve or slow down but I couldn't. There was a car to my left and another tailgating me so if I would have slowed down they would have hit me. So I just plopped right into the middle of it and it made this huge scary noise. When I looked at it I saw that I had completely cracked the rim and I had a huge lump in my tire. It cost $200 to replace my rim and a brand new snow tire," said senior Nadia Johns.
In Omaha, potholes are repaired by two methods.
"Crack seal is a good, cost effective maintenance method that helps prevent damage from water and the effects of the freeze and thaw actions. Flexible, water tight material is placed in joints and pavement cracks to keep water, sand and dirt from filling the cracks. As the panels cool they contract and a gap between the panels opens up," says the City of Omaha Public Works.
The other method is by using asphalt. "Repairs of concrete streets can be done quickly. One of the advantages of using asphalt to repair concrete streets is that the street is open to traffic within a few minutes after the repair is made."
To report potholes, people can call the Mayor's hotline at 402-444-5555 or go to https://publicworks.cityofomaha.org/report-an-issue.