Deniece Radford, Assistant Opinions Editor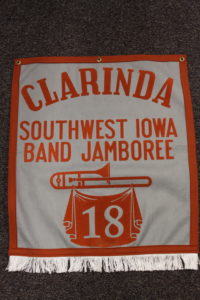 On September, 29th the marching band headed to Clarinda, Iowa for the Southwest Iowa Band Jamboree. They won first place in the parade, earning 552 points out of 600, the second place earning 530 points. While there is a show portion, they had left due to the rainy weather.
"Clarinda is one of my favorite competitions because not only do we get to perform our show, but we also get to show off our parade skills. It's a nice chance to be judged on something other than what we put on the field," said senior Camden Jones. "We all had high hopes. We were excited about the parade and thankfully we were able to do it. Sadly we weren't able to do the show portion, but that's okay because we did amazing and as a band. Clarinda was a learning experience and it will further help us for our future competitions," said junior, and drum major, Elizabeth Chinowth.
Because of the rain, the field at the stadium became very muddy, which is why the band, and many other bands, had left. Some bands stayed behind and performed their show, but some students ended up falling and getting injured. This is the second time the marching band has attended this competition, the last time being two years ago where they received first place across the whole competition. The next competition is this Saturday, October 6th, at Elkhorn Senior High School. Their prelim performance time is 1:45 pm.