Meet the Ath'elite': Makayla Fleming
Makayla Fleming, Volleyball
Athlete: Makayla Fleming, Class of 2022
Team: Varsity Volleyball
"I've been playing volleyball for probably about 7 years," said Fleming. "I play club volleyball at Premier."
"I've played on varsity all 3 years of my years here at Millard South," Makayla said. "My freshman year, the senior setter got hurt, so I had to step in and take over for her."
Position: Setter
Number: 10
"I started because my sister played volleyball. I guess I've always followed in her footsteps," said Fleming. "I think she's my mentor because she keeps me motivated. She's probably my biggest fan."
Makayla said, "Volleyball has given me a way to forget about everything. It's just really easy to focus on, so it takes my mind off of stuff."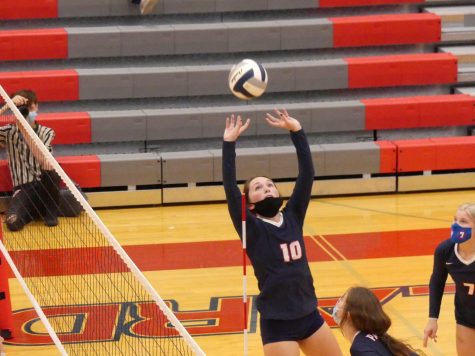 Career Totals (as of Nov. 16)
Assists: 2,565
Aces: 59
Digs: 572
Kills: 172
Makayla has some pretty incredible stats, but that doesn't mean her career hasn't always been easy.
"Just getting used to getting to playing with the team," Fleming said. "My freshman year, it was really terrifying because I was just playing with all of these older girls. But they were all helpful and nice, so that really helped."
When asked about what keeps her motivated, Fleming said, "Mainly my team. They are very positive, even if we aren't doing the best. I love how we always look out for each other and we always try to win. We have that competitiveness."
Not only do her teammates make her a better player, but so do her coaches.
"My favorite thing about the coaches is probably how hard they are are on us, in a good way," Fleming said. "They always want to make us better."
Makayla said, "My favorite memory from this season is probably when we played this one school. It was the first time we had played in a game together cause we lost a lot of players last year, so we were all kind of new, and a lot of people had to step up. It was the first time we were all really playing as a team, and it just felt really good."
Congrats to Makayla on an amazing season!