Meet the Ath'elite': Mya Babbitt
Athlete: Mya Babbitt, Class of 2023
Team: Girls Varsity Basketball
"I've been playing basketball since like 3rd grade," Babbitt said. "I started playing because my parents played it, and so did my brother, so I guess I just did too."
Mya Babbitt has become one of the most valued players on the girls basketball team, and yet, she's only a sophomore.
She said, "It's something that I work for and something that I want to be so I just push myself to be the best that I can be."
And her hard work and dedication to the sport has paid off, helping her score 42 points in the home game against the Lincoln High Links on Saturday, January 16th. With 10 three-pointers made, she not only broke the school record for points scored in a single game, but also tied the Class A record for the amount of 3s made in a game.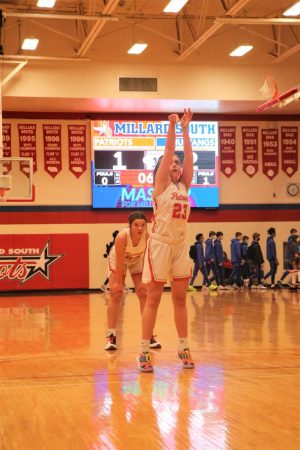 "I guess I didn't really realize during the game that I was making so many 3s. I was just kind of in the flow," said Mya. "It's really cool though. I just know that I couldn't do it without my teammates and them throwing me the ball and getting me open shots."
Babbitt said that her favorite thing about basketball is her "teammates. They make everything better, and then, of course, winning, especially winning with them."
"My favorite memories are probably when we won districts last year or the Metro Holiday championship game this year," Mya said. "Just the rush of the game, the feeling of victory, and being able to celebrate with my teammates, my best friends, they've made for some pretty amazing games."
She said, "I love all the girls. I love our good relationships and how we can along well and play and win like a true team."
Mya's very thankful for all who have helped her further her basketball career, saying, "My parents, and coaches, and teammates; they keep me motivated to keep playing. I don't think I'd be where I am today without them."