Streak Snapped
Elkhorn South snaps JV boys basketball team's 11-game streak
73-54. Nineteen points in an away game vs. Elkhorn South snapped the JV boys basketball team's 11-game winning streak.
"It definitely meant a lot," junior Jackson Crain said. "Being undefeated for so long, I think that it really helped our confidence playing so highly at the beginning of the year," he said.
While continuing the streak was exciting, it wasn't the only factor motivating the team to play well.
"Being undefeated was certainly nice," Coach Tim Locum said. "If you are a competitor, nobody likes to lose, but just winning games on the scoreboard isn't our only goal on the JV team," he said. "We hope that every player also makes progress to becoming a full-time varsity player along the way, and each week we look to take steps towards accomplishing that goal. That said, we do strive to win each time we take the court, and this group has beaten some very strong JV teams to this point. We are very proud of that."
Unfortunately, the winning streak came to an end, but the loss taught them other lessons.
"It means a lot to be undefeated," junior Cole Renken said. "It shows how good we could be at some point, but then on the losing side, it shows that we can lose to anyone and we have to be ready to play and give our best."
"It felt good to be undefeated for most of the season. It got us pretty excited, but we knew we play a pretty tough schedule, so we knew it was going to be difficult not to lose," junior Bradon Cannon said.         
While they are no longer undefeated, this team has not let the losses ruin their season.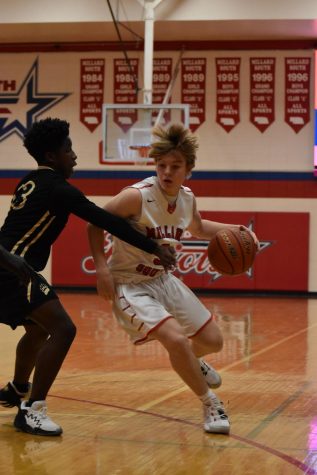 "I think actually losing a game and how we responded to it was probably one of the best things," Crain said. "Just being able to overcome that adversity–I think it shows a lot."        
Cannon said that he is most proud of how hard the team has worked. "From the effort we put into practices to how well and hard we play at our games, we've gotten to where we are because of it," he said.
Though the loss to Elkhorn South was a defining game of the season, earlier victories were certainly notable.
"I think the thing that I'm most proud of is probably how we came back against Lincoln High," Renken said. "It showed what we really could do."
In this game, after halftime, the team was down, 34 to 26, and trailing the Links 48-42 going into the fourth quarter, but as Renken said, they came back to win, 66 to 55.
"We have a very collective effort this season, and everyone has contributed to our success," Locum said. "Everybody plays, everybody scores, everybody rebounds, everybody moves the ball, and everybody defends. There is not a reliance on one or two players to win the game or score points — our strength is that anybody and everybody can be successful by playing together," he said, "but I would certainly recognize the juniors on the team [Jackson Crain, Bradon Cannon, John Wilson, and Cole Renken], who have led with their effort, actions, and dedication to us being as good as we are. I love coaching all of them."
This team may not have gone the whole season undefeated, but they have certainly become one of the greatest JV teams in the history of Millard South.
"I have really loved coaching this particular team, primarily because they play egoless basketball," Locum said." Everybody contributes, and everybody sacrifices for the same goals — to execute at a high level and compete to win. Not every team of players is willing to do that, and I have enjoyed this year immensely due to this group buying into that philosophy."