Patriots Win Districts
Varsity girls basketball defeats Dragons for the A-2 title
The Patriot girls basketball team brought home the District A2 championship beating the Gretna Dragons 62-54.
"It was really fun, winning, and especially with the girls," sophomore Miranda Kelly said. "I think a lot of it came from the atmosphere and I don't think we wouldn't have been able to put up a fight without everyone being there."
"The feeling is truly special. It's not something that you accomplish every day," said sophomore Khole Lemon. "Just knowing we worked so hard to get here yet again motivates us that much more to finally finish the job at PBA."
This year marks the sixth year in a row of a Patriot appearance at the NSAA Girls Basketball Championships, something that is a win in itself.
"I am very proud that we have a standard of going to the state tournament," head coach Bryce Meyers said. "Getting to Lincoln is not easy and the fact that we have been able to get there for the sixth year in a row is a testament to how hard the kids work year-round and how important it is to us."
Unfortunately, last time around, the girls lost in a tough game to the Lincoln Pius X Thunderbolts in the semi-finals, making this year the year to come back and finish it all.
"Now that I'm actually playing more, it's a lot more rewarding. I just feel like, for all the girls that played last year and didn't win state, I just feel like we're going out and winning it for them," Kelly said. 
"We definitely have something to prove since we fell short in previous years," Lemon said. "We have all the pieces to bring back the state title, we just have to execute when we touch the floor."
During the district finals, Lemon led the Patriots, scoring 19 points.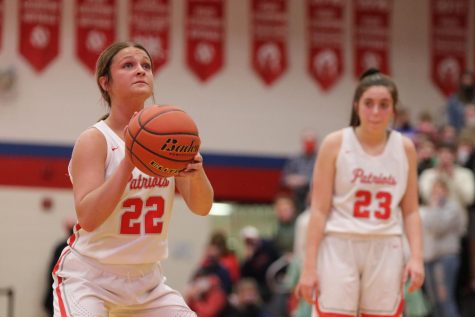 She said, "I couldn't have done it without my teammates feeding me the ball. My shots were going in and I knew what I had to do in a big game like this."
With the state tournament starting tomorrow night in a game against Lincoln East, the team is doing everything in their power to be the best they can be.
Coach Meyers said that he and the team "are excited to have the opportunity to be able to compete." 
"We will go there and play our game and play as hard as we can," said Meyers. "We feel there are some things we have improved on in the last week are so, so I'm excited about it."
The Patriots take on the Spartans tomorrow night at 6:15 in the opening round, so we hope to see all of you there!
"I am excited to play with my teammates on a huge stage," Lemon said. "Our team chemistry is something special and I am beyond grateful to have the opportunity to play with each and every one of my teammates. I don't know where I'd be without them."