Meet the Ath'elite': Cole Lammel
Athlete: Cole Lammel, Class of 2021
Team: Boys Varsity Soccer
"I've been playing soccer since I was four," said Lammel. "My older brother played, so I wanted to do it, and I guess I continued playing."
"I played for Gretna until I was 12, then I was recruited by OFC, so I played for them as well as the first national team that they had," Cole said, "and then I came to South and started as a freshman."
Position: Center Back
Number: 3
Cole Lammel has been a staple in the Millard South soccer program, proving his worth from the very beginning, but doing so wasn't the easiest for the captain. 
"My freshmen year, the team was made up of 9 seniors, a sophomore, and myself, so it was a very short maturing process of coming in and learning what I had to do to help the team," he said.
But he quickly became a leader on the team, scoring 1 goal and 5 points just in his freshman season. 
Goals: 6
Points: 19
This being Lammel's senior year, it's his "one last shot at state." He said, "I haven't gone the last three years so I'm just really looking to get there."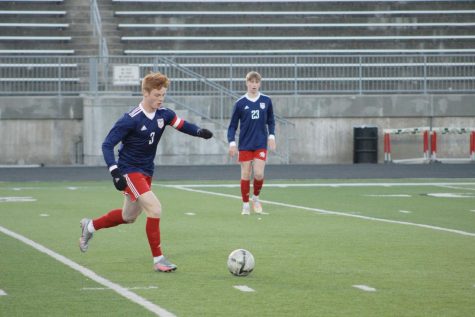 "I think I'll miss the other 4 seniors we have the most," Cole said. "Over the last three years, we've really built a bond and we all know the goal is to get Coach Cooney to state."
As this is Coach Cooney's last year coaching at Millard South, getting him to state is "the main motivation."
After all this time, Cooney has become a second father to Cole, coaching him to be the best athlete he can be. 
"Coach Cooney for sure. He's like another father figure for me cause I get him for football and soccer and I see him all the time," said Lammel. "If I have off-blocks, I'm always in his room talking to him. He values my opinion and I like talking to him."
Cole's favorite thing about the sport: "the fluidity of the game."
"Everyone has their own position, but we know at the end of the day that if you come out of position, someone else is flowing back," he said. "It's like clockwork, when one thing moves, another guy moves."
As Cole's time as a Patriot is ticking down, he is giving everything he has this season to make it his best, and we are very excited to see what he can do when the clock strikes midnight. 
Oh, and "shoutout to Darryl, the team manager, for doing all the good stuff and keeping the morale high."