Meet the Ath'elite': Grace Henry
Athlete: Grace Henry, Class of 2021
Team: Varsity Girls Soccer
"I have been playing soccer for, I would say, about 11 years," Henry said. "My parents kind of just put me on a team when I was really little, and I guess I have kept playing since then."
Having so much experience, playing for "Sporting Omaha and Bellevue Soccer Club," Grace has "only played varsity for Millard South."
Position: Center Back or Center Striker
Number: 9
Earlier this year, Henry announced her commitment to Hastings College to continue her soccer career, but getting to that point, committing to a school, was very difficult for the senior.
"I kind of hit a mental block when COVID started cause that kind of delayed my college search, making it extra hard to navigate," Grace said, "but in the end, I ended up signing [with Hastings], so it kind of all worked out."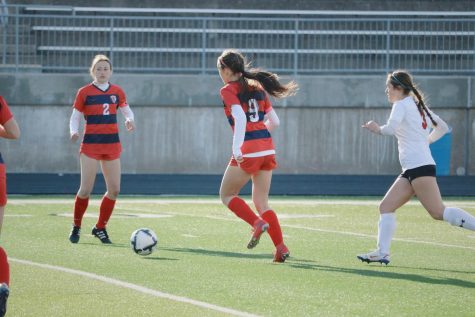 Fortunately, with the help of her club coach Jen, Grace was able to find the perfect place to further her career.
"My club coach Jen, she's really the one who helped me in my college search and helped me gain confidence in my play," Henry said.
Goals: 15
Points: 40
Assists: 10
Following the cancellation of her junior season, Grace said it was hard to stay focused and motivated, but she found the motivation she needed in her team.
"I stay focused mainly just regrouping with my teammates and talking it through on the field," Henry said. "Knowing that we're all playing for each other and playing for the same goal, it kind of just settles me down."
"Definitely the team bondings or the team pasta feeds, really just the outings with them. Just spending time with the girls, that's my favorite thing," she said.
Grace's little sister and sophomore, Dru, is also on the team, making these past two years extra special for her.
"Having her on the team, it's challenging at times, definitely," Grace said. "There's definitely a lot of butting heads, but it's fun, and I'm lucky I get to play with her."
"I love how well we can play with each other and just get along on the field," Dru said. "I'll miss hanging out with her almost every day and the inside jokes that come along with it. I hope she has the best time in college and meets people she'll love forever," she said.
Henry has become a leader to this team and we "will miss her very much."
"Thank you to Mosser and Sturgeon for, I mean, being a new coach with a new team, just really putting all of us first," Grace said. "I'm excited to go to Hastings next year and see what that holds for me."