Meet the Ath'elite': Caden Blair
Athlete: Caden Blair, Class of 2021
Team: Varsity Baseball
"I've been playing baseball since I was four," Blair said. "For club teams, I played for the Millard Mavericks and the Red Legends, and then for Millard South, I played freshman, JV, and varsity."
Position: Pitcher and Shortstop
Number: 2
Just like many young kids, senior Caden Blair had a dream. His: to play baseball. 
Starting baseball at a young age, Caden has been able to fulfill that dream with the help of his father. 
"I look up to my dad because he has given up a lot of money and time towards my dream of playing baseball," Blair said. 
He has had quite the career, pitching some incredible comebacks, including one to come back and win, helping his team to a tournament win. 
"It was sophomore summer season," Blair said. "It was in Minnesota, the Gopher Classic, and we were playing Eden Prairie. I came in during the third inning and pitched the rest after we were down maybe 8 runs. We came back and won and I shut them out the rest of the game. It ended up being my favorite game."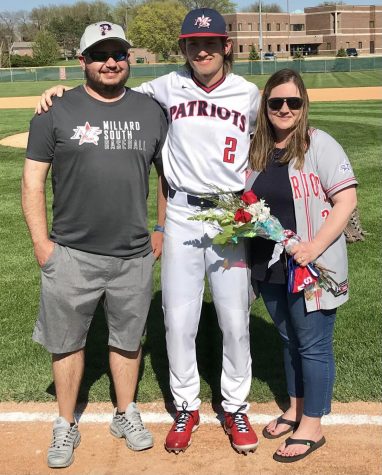 "The best part about baseball is just hanging with the guys in the dugout," Caden said. "Just the high energy and excitement in the dugout, that's what makes the sport so fun."
Caden's favorite thing about the team: "How hard we work."
"Everyone has the same goal, everyone's self-determined," Blair said. "I think that's why we have been so successful this season."
And that they have. The Patriots are currently 24-4 with a 7 game winning streak, and they plan to continue that success all the way through the end of the season. 
"Our season is going pretty well right now," Caden said, "but we look to win some more games, play solid, stay together, and win a championship."