Cooney's Goonies Win Districts
Boys soccer headed to state for first time in 13 years
On May 5, your very own Millard South boys soccer team won districts, something they haven't done since 2008, the year they last won state.
Getting down early in the first half, back-to-back goals from junior Ryan Lee and sophomore Zach McClanathan proved that the Patriots weren't done yet.
"It was just the greatest feeling in the world," McClanathan said after scoring off a corner kick. "With the crowd screaming and all the baseball guys running over to me, it was just the best feeling."
And with a goal from junior Dustin Rowe, the Patriots secured their first district title since 2008.
"It feels great being part of a team that won districts for the first time in 13 years," senior Louis Fellmann said. "I'm hoping that all the younger guys will take this experience and make it a tradition."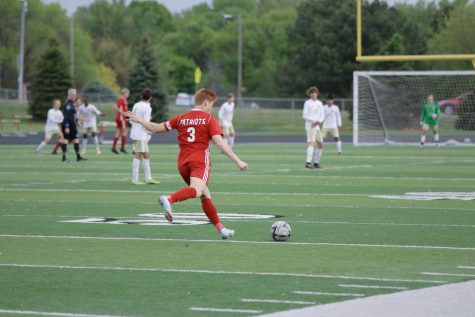 With this being Coach James Cooney's last year of coaching here at Millard South, the boys made it their goal to get him to state one more time.
"Since this is Coach Cooney's last year, the main motivation is to get him to state and hopefully win it once more," senior Cole Lammel said earlier this season.
And that they did. With the sound of the final whistle came that realization that Cooney would be back at state one last time.
"It's what I needed," Cooney said. "I don't want to be a one-and-done team at state, but I really wanted to get our kids back there. I didn't want to leave this place without some kind of legacy of being a quality program. I think we're setting the table for the next group and the next group after that. I mean, it's pretty big." 
"It felt great to win districts," freshman Sam Stutheit said. "It's Cooney's last year and he's been hoping to get here for a while, so it's just really good to finally get him here after 13 years."
"It's definitely a lot for him, to be able to give him this last experience," Rowe said.
"It's really exciting, and I hope that we can get more than just a first-round win," said McClanathan. "I hope we can take him all the way. It would really end off his career on a high."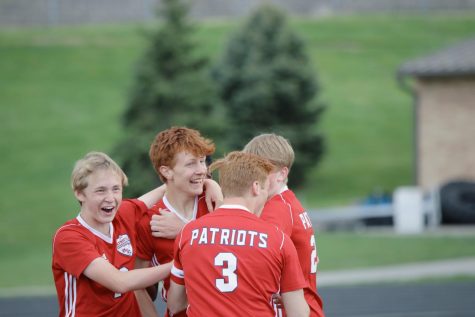 As the team plays Creighton Prep in the first round, a team the Patriots beat in a shootout earlier this season, the team has a chance to do so.
"I'm most excited just to see what we can do," sophomore Simon McClannan said. "We have [Creighton] Prep first round and we've already beat them, so I think that we have a chance to make it pretty far."
While this season has already been one to remember, the team looks to take it a step further and bring home the championship title.
"We're just happy to get the opportunity," Cooney said. "I mean, do we have our work cut out for us, yes, but we're not going to make any excuses. The kids don't make excuses. I just think that they'll play. They'll play hard," he said. "We won't go down without a fight."