Patriots Earn Gold
Baseball defeats Millard West for first state title in 40 years
A three-run homer from senior Christain Hobbs and 6 strike-outs from junior Braden Sweet put the Pats on top, bringing home the state championship title for the first time since 1980. 
"It feels amazing to be state champs," Sweet said. "We have wanted this for a long time."
In order to take the title, the Patriots needed to beat Millard West, not once, but twice, due to the double elimination, and as they had previously lost to the Wildcats earlier in the season, they needed to put all they had out onto the field. 
"After losing to West 3 times, we knew what we had to do: just relax and play the way we play. And it turned out to work and got us the two biggest wins of our season," Sweet said. 
"It felt amazing to come back and win," senior Jacobb Foote said. "When we lost to West, we didn't take it as though we were done with the tournament. We had 14 strike-outs and only lost by one. We knew we could come back and win this tournament if we stayed together and played our game."
With a hard-hit ground ball from Millard West's Maddox Fleck to 2nd base and a grab from Foote to senior Matt Guthmiller, the Patriots had secured the title.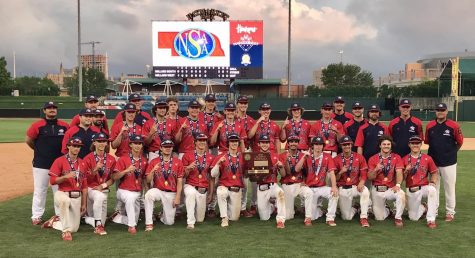 "My favorite part of the whole thing was when I made that last out and everyone went crazy," Foote said. "Everything seemed to be in slow motion and the huge hug I got from Coach Geary meant a lot because I was so happy that we were the team that finally got him to a state championship. I'm so grateful to be a part of this team. These are my boys and by far my favorite team I have been on in my whole life. The fans only saw the starting 9, but everyone on the team had an individual part in helping us get a ring."
Even with the state title, Sweet said the Patriots aren't finished yet, "Everyone should be expecting us back there next year," he said. "Thank you to all my seniors for the most fun season I have ever had playing baseball. I wish them all the best in their futures."