Under the lights
Patriots go 9-0 in the regular season
Friday Night Lights is where the magic happens. Under those lights, it's all or nothing: smiles stretch far and wide, fans jump a mile high, and teams let out their battle cry.
Under those lights, a spell is cast, bringing the Patriots to life. Tearing through their opponents, running faster than lightning, the Pats dominate their competition. They've taken charge of all of Nebraska, watching the cats scatter and hide as they walk out onto the field, ready to win.
The Patriots are now -0, coming off the regular season with a perfect record, marking them as the number one seed, something they haven't done since 2009, when Millard South beat out Millard West, 45-17, in the championship game at Memorial Stadium.
"Going into the first round of playoffs as the top team is a huge opportunity for the team. Being the number one seed is the best-case scenario for us," senior Keegan Trudell said.
As senior Jake Gassaway said, being named the number one seed is just the product of the team's continuous hard work this season.
"Our coaches work super hard to put us in the position to win every week so we just go out and execute for them and it's paying off," he said.
The regular season may be over, the grind is not. For the Patriots to stay on top, they must outwork their opponents, not just in the game, but in practice as well.
"We need to keep practicing hard and making sure we are getting better every week," Gassaway said. "We can't take any team in the playoffs lightly as playoffs are single elimination. We need to make sure we're on our A-game every game."While the team works to build their skills, making sure they are in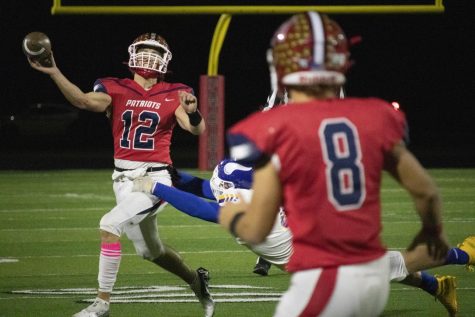 prime condition for the state playoffs, they have the strongest foundation, knowing each other more than they know the playbook.
" This team has a certain chemistry where we know everyone's pros and deficiencies," junior Cam Kozeal said. "It makes us so good as a whole. I love these guys and how we play. We aren't necessarily the biggest team, but you can bet that we are going to play like we are 10 feet tall and bulletproof."
As the playoffs head underway, the Patriots work to shine under the bright lights, fighting for a one-way ticket to Memorial Stadium, where the lights have never shined so bright.
Leave a Comment
About the Contributor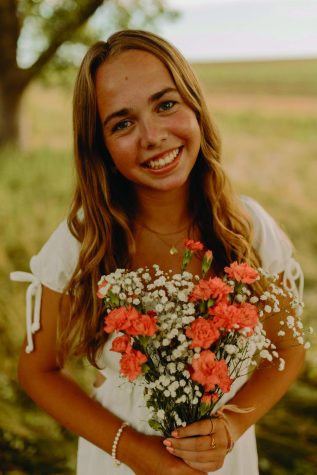 Ally Seevers, Editor in Chief
Ally is a senior at Millard South and this is her third year on the Common Sense staff. She is also a varsity runner and tennis player, a violinist in...