World Language Week brings back celebration of food, culture, crafts
The hallways of the 400's were again flooded with world language students moving from room to room. French, German, and Spanish students are all learning how to do art projects, play new games, and most importantly, taste authentic food items. Arguably the most anticipated week for world language students has returned.
"I think in world language classes you can definitely get bogged down with all the grammar and vocabulary, and people miss culture," French teacher Terri Wright explained, "and one of the benefits of World Language Week is being fully immersed in just culture." Wright also said "it's got such a nice carnival or fair atmosphere that makes it so much fun. I think it puts a positive light on the World Language program."
The last World Language Week was in January of 2020, and because of Covid, the world language department was not able to hold the week of festivities until this year.
For many language students, and some teachers, this was their first-ever World Language Week.
"I think most of the freshmen had a really good experience with it," freshman Spanish student Kindric Robinson said. He said that his favorite Putting her design skills to work, junior Spanish learner Carley Schroeder creates her own Mexican talavera- inspired tile. Photo by Makayla Ripley part of the week was doing activities from other countries and also that he is looking forward to next year's World Language Week because "students gain new knowledge and experiences about other cultures around the world." For upperclassmen, the week was another activity that makes life feel like it is returning to normal after the pandemic.
"It's actually my favorite week of the year," junior Spanish student, Allison Kilzer, explained. "I look forward to it because I get to spend an entire block walking around to dif- ferent activities, eat delicious food, and everyone is so happy." "This year my favorite part honestly has to be the crafts," she said. "I made the French flowers and the Spanish instrument, a castanet."
German teacher Jordan Pullen explained "some of the benefits of World Language Week I would say are students and how they get to first and foremost see other language takers in Spanish and French. They see different activities, different foods, different backgrounds, and cultures. They get to meet the whole department and they get to use and reflect on their language learning to see how far they've actually come and what more awaits them on the horizon."
Leave a Comment
About the Contributor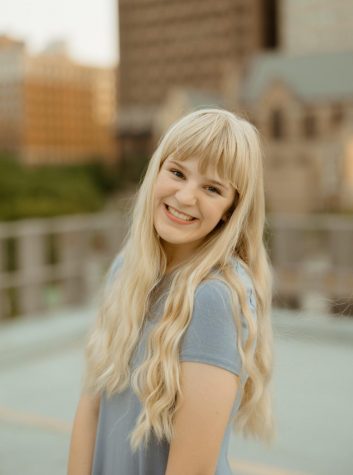 Vivian Kaldahl, Distribution Manager
Vivian Kaldahl is a senior, and this is her first year on the newspaper staff. She is president of Millard South Student Council, National Honors Society,...