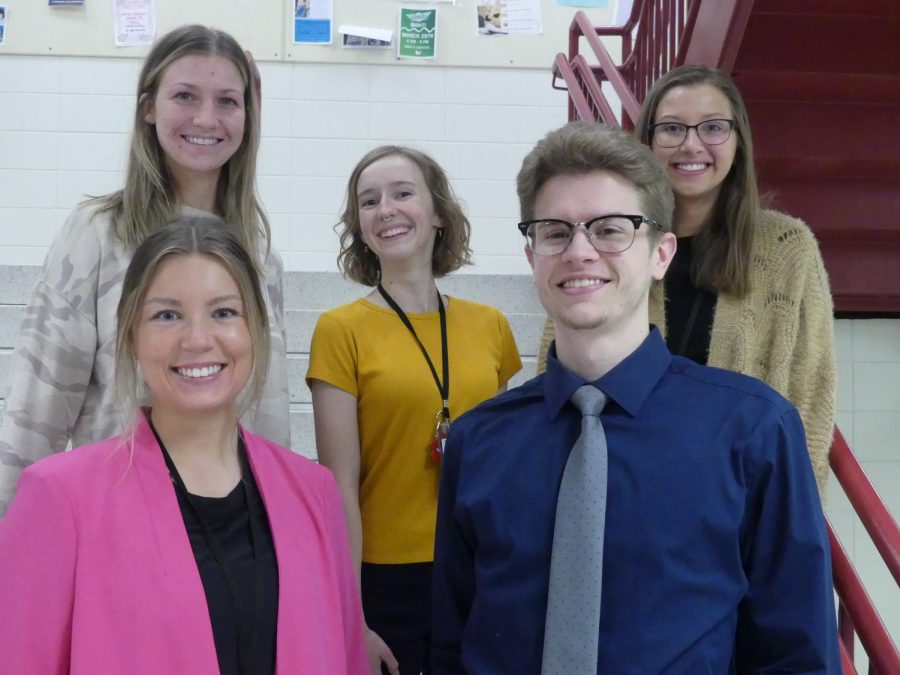 Student teachers navigate high school for a second time
April 13, 2022
An important part of a teacher's education is the student teaching period when they get hands-on experience teaching in a school environment while still completing their education. This is especially true now, as teachers have become a hot commodity. This semester, Millard South is lucky enough to have 5 of them. Together, they cover a multitude of departments, those being English, FCS, Social Studies, Science, Special Education, and Music.
Miss Robertson
Maddie Robertson is enrolled at the University of Nebraska at Omaha and is majoring in Secondary Education with an English Language Arts endorsement. She teaches Newspaper, Introduction to Photojournalism, and Journalism with English and journalism teacher Christine Kaldahl, and also teaches Literature and Film and English 10 with English teacher Mary Kay Desjardins.
Robertson grew up in a family of teachers, which she said most certainly caused an early interest in teaching. When asked why she wanted to become a teacher, Robertson said, "I've always loved working with young people. I think they're so creative and funny, and great to be around."
She said, "This experience has really confirmed that for me, and it really opened my eyes to a lot of the little details of teaching." An example is grading, some- thing she had never done before, but now a task she spends her weekends doing. Even with this, she said, "It really cemented that I know I want to do this for the rest of my life." Robertson also has a better understanding of "the importance of being involved and building relationships."
Mr. Synowiecki
William Synowiecki is enrolled at the University of Nebraska – Lincoln, and majoring in Secondary Education – Social Sciences. He currently teaches U.S. History with social studies teacher Lula McCaskill, but has previously taught world geography with social studies teacher Aubrey Wagner, and World History with social studies teacher Donald Osborne. He is also an assistant coach for the JV girls soccer team, an experience he says has been a lot of fun.
When asked why he wanted to become a teacher, he said, "My mom is a 3rd grade teacher and I had some fantastic teachers in my K-12 experience who inspired me to become a teacher myself." He says, "This student teaching experience has taught me more about teaching than most of my college teaching classes," along with, "My student teaching experience at Millard South has proved to me that teaching is what I want to do in life."
Miss Luther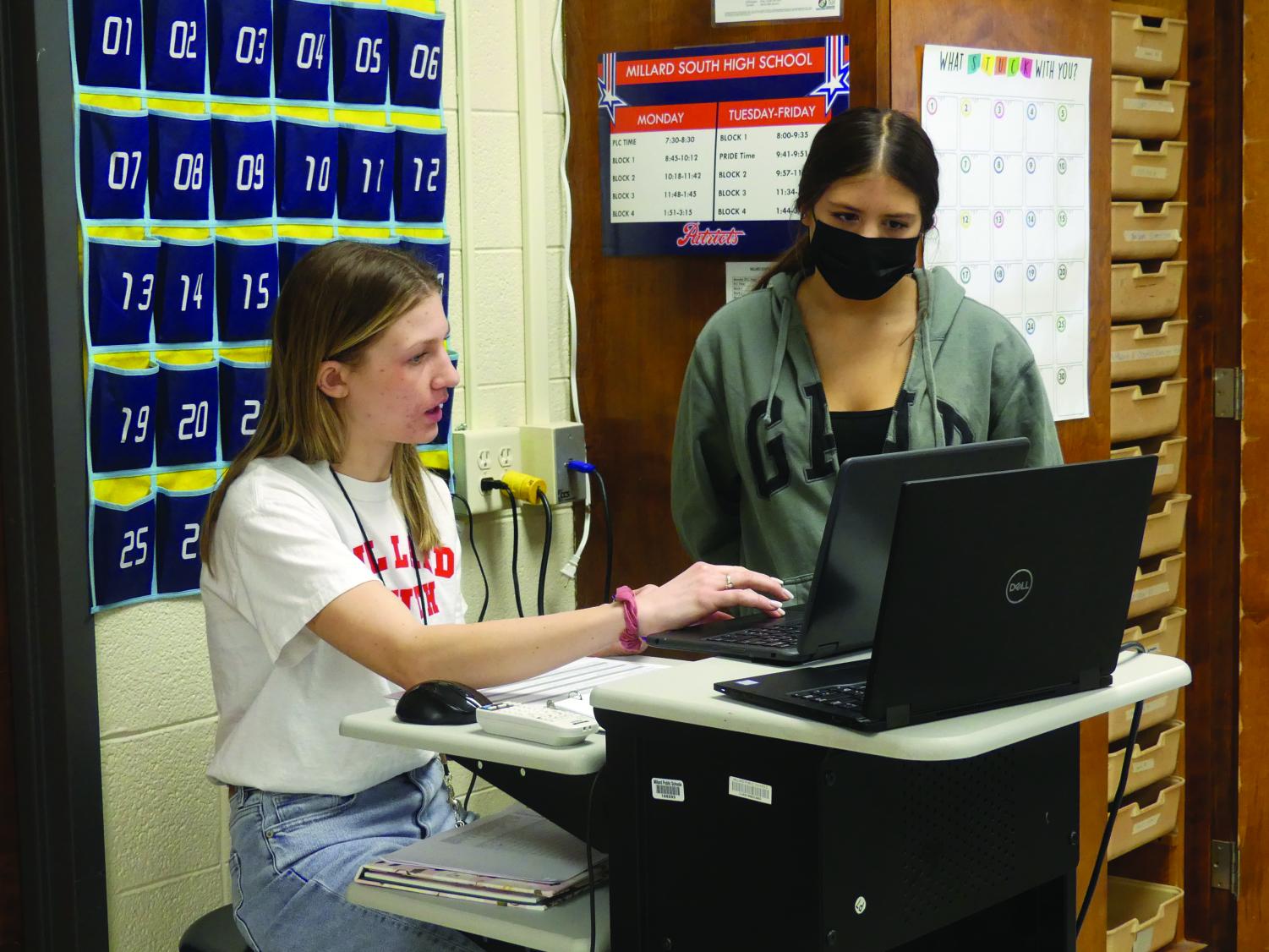 Alexa Luther is teaching Healthy Living, Interior Design, and Creative Design alongside English teacher Shelby Bockelmann. She is enrolled at the University of Nebraska – Lincoln with a major in secondary education Family and Consumer Science. Luther is also a Millard West alumni and credits her aspiration to be a teacher to her high school teachers. Luther said, "I struggled in my personal life when I was in high school, and would not have made it through without the support and encouragement from my teachers at Millard West." Luther said, "As I got older, I realized that I wanted to pay it forward and be the teacher that students go to for advice and support."
Talking about her time student teaching, she said "I have learned a lot about what my expectations will look like as a new teacher, and what I want my classroom environment to look like. She added, "I have grown an appreciation for all educators and have also met a lot of wonderful teachers at this school," concluding that student teaching has been one of her favorite educational experiences. Her goal is to mentor students as well as to teach them how to be well-rounded members of society. She will be continuing that goal at Millard South next year, as she will be taking over for Bockelmann.
Miss Perry
Taylor Perry is enrolled at Doane University and majoring in Elementary Education K-6 and Special Education K-12. She teaches Foundations 3 with math teacher Katie Garcia, Physical Science Physics with science teacher Erica Storms, and Essentials Physical Science Physics. She just recently started teaching at Millard South, starting March 14, but has taught at Skyline Elementary in Elkhorn and Neihardt Elementary in Millard.
When asked what made her want to become a teacher, she said, " I had several outstanding teachers during my educational experience, specifically one teacher and basketball coach, and I would like to provide the same for the next generation." She said, "The student teaching experience has shown me the importance of relationship building with students and staff in your building(s). Along with this, when you make a mistake, your reflection is the most important aspect!"
Miss Kroll
Morgan Kroll is enrolled at Peru State and is majoring in Music Education. She student teaches for the choir department, alongside choir teachers Amy Sweets and Jason Stevens, and also was the director of Stage One, Millard South's all-female show choir. She grew up surrounded by education, as her mother was a teacher. Due to growing up surrounded by education, she said, "I was the kid that played school with my siblings."
When asked why she wanted to become a teacher, she said, "I had some really great teachers when I was in high school that inspired me to want to do the same things as them." Because of student teaching, she says, she was able to get out of her comfort zone and grow, describing it as "a totally different experience than what I have ever experienced."