Two Seniors DECA Dominate Their Community Awareness Project
With the semester coming to an end, many students work hard to get their projects and assignments completed. Two seniors, Izabell Escobar and Adam Looney, have made great efforts to finish their project for their advanced marketing class.
"The projects are basically taking everything we've learned from our marketing classes, putting it all together, and tackling a real word problem, and using what we've learned to fix it," Looney said.
"So there's three stages of it," Escobar said. "You have your community wide awareness, your school awareness, and then your chapter awareness."
The seniors decided to bring awareness to sexual assault with their project.
"Originally it was actually Izzy's idea," Looney said. "She's very passionate about it, and I wanted to do everything I could to help her out with it — so that's why we joined and started working on the project together," he said.
"I think it's really important to kind of have an awareness of that," Escobar said. "I was kind of debating between domestic violence and sexual assault awareness just because I feel like those two topics are really important, especially now in this age of just our climate and culture of everything," she said. 
In order to complete the community wide awareness portion of the project, the duo started off with a 5k run. Escobar shared her reasoning on the 5k decision.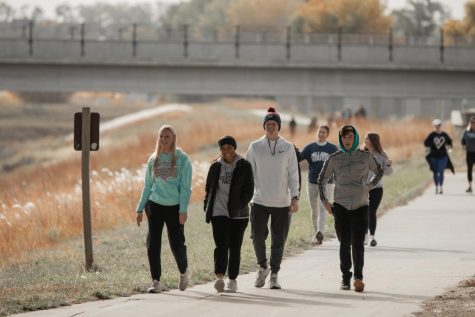 "So especially being a female runner, I think it was something really important," she said. "We've all been catcalled before in runs, we've all been followed by creepy cars…you're more prone to be overly aware of your surroundings."
Looney also gave his reason.
"So one thing about sexual assault is, part of it is human trafficking, and runners face a lot of their prime target from human trafficking. Not only that, but with harassment, catcalling, all that, so we wanted to bring attention to that […], [and] we thought that the 5k would be the best way to do that," he said.
To get the run out of their imaginations and into reality, Looney and Escobar had to take further action.
Escobar explained that the week before the run she "got in contact with everybody and anybody and had them post [about] it on social media."
Escobar further explained that she contacted local running clubs through email and Facebook to see if they could also help promote the run. Looney added that posters and flyers were made to promote the run, and they got in contact with parents, who took it to their places of work for further promotion.
Finally, on Oct. 15, the run was a go.
"The run was held at Fleet Feet," Looney said. "We had about 60 people come out; we had people from our school, from Millard West and Millard North, and from our community as well," he said.
"Our goal was over 50, so we hit our goal," Escobar mentioned. "I'm super satisfied with the run, I think it was a really great turnout, everyone that was there had lots of fun, and it was really informational as well," she said.
The school awareness event preceding the run was a PowderTuff volleyball tournament. The event occurred on Tuesday, November 1st. Admission to the event was a box of diapers or an alternate payment of $5. The seniors explained that they started preparing for the event around the beginning of October and had the school gym reserved. They also explained that they got in contact with one of the school's volleyball coaches for additional help.
"We had about 6 teams, [and] we raised around 300 dollars, so I think the event went really well," Looney said.
For the chapter awareness part of the project, the seniors decided to make posters and a large tie-blanket with their DECA chapter. The posters, involving sexual assault statistics and resources, would end up being hung around school. The large tie-blanket and the rest of the money earned from the events would be donated to the Open Door Mission Lydia House.
Although they spent the first semester on their project, there is still work to be done. A written project, consisting of about 20 pages, will have to be written before winter break. Escobar will create a presentation over the project next semester and compete with it, while Looney will begin a new project.
The students ended up learning quite a bit from the project, but one of the main things Looney learned was "just how big of a problem sexual assault really is in Nebraska."
Escobar also shared her biggest takeaway from the project. 
She said, "It was learning a lot about just what goes into projects and events like this and how big of an impact this does have on people."