Audiences Can't Help Falling in Love with Elvis movie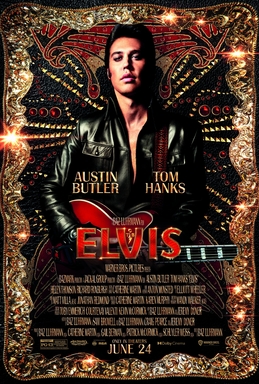 Elvis Presley's nickname as the "King of Rock and Roll" came into the spotlight around the mid 1950s with the song "That's All Right". Elvis had 18 number 1 hits, and Presley is now recognized as the best-selling solo musician artist of all time. Elvis has so many popular songs including "Can't Help Falling in Love" and "If I Can Dream" that so many generations of people know this icon from Boomers to millennials.
Now in this film by Baz Luhrmann that was released on June 24, 2022 it takes a deeper look into Elvis's life and his complicated relationship with his manager Col. Tom Parker. This is an overview of his 20 year course of superstardom with the many influential people that help him including Priscilla Presley. Austin Butler who plays the iconic Elvis and his mysterious manager Col. Tom Parker played by Tom Hanks who helped launch his career. This movie also shows the many challenges that Elvis had in the beginning like not being allowed to dance, then getting sent off to war, and his mother dying from alcohol abuse. 
What better artist not to use than Elvis? He wrote so many spectacular songs and kept making music until he died on Aug.16, 1977, at age of 42. With all the varieties of genres to country to rock music that Elvis wrote they were all displayed by talented 31 year old actor Austin Butler. In fact when shown in the extra scenes Austin grasps every information about Elvis life, he even got a vocal coach to match the vocal tone to King himself. All the live performances in the movie were actually performed by Austin himself, but the background music was a mixture of Elvis and Austin. There were some remix songs that were executed by Doja Cat who sang "Hound Dog" and Måneskin "If I Can Dream". Of course all the songs were astounding, but the people who sang them did an amazing job bringing back the Elvis sound.
Elvis had a particular look with the caps, big dazzling belts, and needless to say the hair. Butler truly transformed into him even at the end of his career when he was overweight. He walks, talks, and dances like him. When I first watched this movie it was like looking at the real Elvis. The makeup and hair department did a fantastic job transforming both Austin Butler and Tom Hanks into their characters. Particularly Tom Hanks' character mostly because he had a lot of prosthetics to make him look fat and of course he had to have gray hair. The only prosthetic that Austin had was at the end of the movie when Elvis' life was at the end and he was overweight because of the drugs.
I believe that this movie will get tons of awards but particularly because of Butler acting. He went above and beyond and truly transformed into Elvis. The actress who played Priscilla Presley, Olivia DeJonge, had perfect chemistry with Austin. The one I was surprised by his performance was Tom Hanks. His character was a very crude person so it made you hate Tom Hanks portraying him. Also Col. Tom Parker's accent was very unique so it must have been very hard to do. 
Looking at the years of Elvis life was divided into three segments: the early days, Hollywood, and Las Vegas. According to set, production, and costume designer Catherine Martin they use certain color schemes which are also consistent with the clothing that replicate Elvis. The interesting thing about this movie was that they recreated Graceland where Elvis lived throughout his stardom until the end which they built in Australia.
This was an outstanding movie by the perfect casting choices, vibrant landscapes, and stunning music performances. This is an amazing movie for all. Young viewers will learn about the iconic Elvis while older ones relive watching the performances of Elvis through Austin Butler's acting. In the words of the famous Elvis "Thank you, thank you very much."