13 musicians make select All-State ensembles
Every year in the month of November, around 745 students across the entire state of Nebraska gather to do one thing: make music. For choir, band, and orchestra students, the opportunity to participate in the All-State Music Festival is one of the biggest honors a high school musician can receive.
"It was a great learning experience and thrilling to sing with such a large group," says senior Mikah Saub, who was one of 13 musicians from the school selected this year from the 2,000 who auditioned.
The convention is put on by the Nebraska Music Educators Association and gives an opportunity for dedicated music students to come together to perform a concert as one orchestra ensemble, jazz band ensemble, band ensemble, and choir ensemble.
Saub explained that rehearsals felt very different compared to last year's' practices. Last year due to Covid-19, the Nebraska Music Educators Association chose to accept fewer students, so the ensembles were significantly smaller.
"The All-State experience felt a lot less guided this year," Saub explained, "As a two-year chorus member, last year felt a lot more structured. This year felt much less put together and last minute. [Rehearsals were] very loud and the music's dynamics were difficult to determine due to being in such a large group," she said.
Despite these small negative aspects of All-State, Saub said she highly enjoyed watching and learning from the other choirs that performed at the event.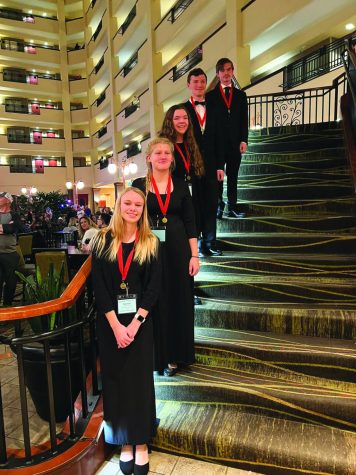 "…Watching different college choir performances had to be my favorite part. I learned more from watching other choirs than I did in the actual rehearsals. I feel as though listening to other ensembles allowed me to experience different feelings and tonalities. While participating in the choir I was chosen for, I noticed that [students] had different levels of preparedness and ability," Saub said. "Unlike the orchestra and band groups, the All-State choir members are selected through a quota system. The goal of the Nebraska Music Educators Association is to get students from a variety of areas within the state of Nebraska. So, they break the state up into 10 different sections and invite a certain percentage of students from each section to participate," choir director Jason Stevens explained.
On the instrumental side of the event, orchestra student Hope Weber expressed that she had a wonderful time.
"All-State was great! It was such a good experience to be able to play in such a large orchestra with some of the top high school musicians in the state," Weber commented.
To audition for the All-State Music Festival, students had to be not only talented but very prepared. During the audition, students only had once chance to be recorded for their audition. No second tries, no redos, and
definitely no submitting multiple takes. Although most of the work to qualify for the convention had to be done by
the students themselves, Stevens and choir director Amy Sweets were committed to help out.
"Choir teachers provided students with resources and gave them the music," Stevens mentioned. "We had a few sessions after school to kind of prep them and get them ready but for the most part, it is an individual honor and they work on their own," he explained.
As Stevens stated, students for the most part had to work on learning the audition music on their own.
"I personally take private lessons, which really helps," drum major Luke Meyers explained. "I also practiced a lot at home and spent months on rehearsing," he said.
In addition to making the choice to practice frequently, Meyers also had to make the decision of what ensemble he preferred to be a part of. While auditioning for both the choir and the band, Luke chose to be in the band despite
making both groups.
Typically, All-State is made up of juniors and seniors, but Weber and Caros Jacobo qualified for the honors convention as sophomores. Weber in particular showed up to alter the status quo by making the top violin section in
the orchestra. Astoundingly, Weber was able to accomplish being one of only 20 people to selected for this premier group.
Leading up to the day of the concert, All-State rehearsals were the 16th, 17th, and 18th of November with students having to spend the two nights at a hotel. Musicians held full ensemble rehearsals three times a day with their director. Rehearsal times had range of just an hour and a half to up to two hours and 30 minutes. The concert had a large turnout of family members and friends in the evening of Nov. 18 full of skillfully made music.