29 Years Sums it Up for Math Department Chair
How many years can you dedicate to something you love after knowing it is time to stop and rest? Twenty-nine years may seem enough. After this semester, math teacher and department head Cami Warneke will retire. 
Teaching school, especially high school, has its moments. Warneke shared some of her favorite teaching moments, one being sponsoring the Math and Science Club. 
"Preparing students to participate in math competitions was so much fun," Warneke said. She also shared that starting AP Statistics class in 1997 and the Math Club in 2007 were impactful for her. 
"I love this class [AP Stats] because it draws on a subject I really enjoyed college," Warneke said.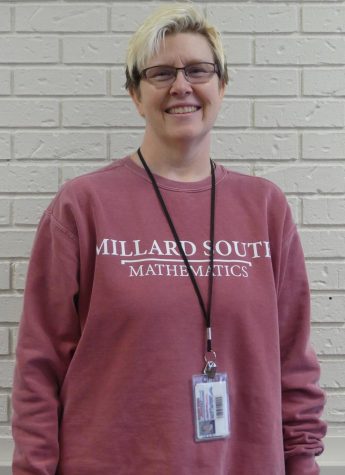 Along with the happy moments, there were some sad ones, Warneke said. She recalled reading to the class about how the World Trade Center towers were being hit by a plane on 9/11 and also the school shooting here at Millard South in 2011. 
"Both were difficult times seeing students and teachers being impacted by what happened," Warneke said. 
There is a Plan B to everything. Warneke shared that if she weren't a teacher she would be an actuary. An actuary analyzes the financial costs of risk and uncertainty, but for right now she will stick with being a teacher. 
"My initial college degree was in math with a minor in actuarial science. After college, I worked for CIGNA in Connecticut as an actuary pricing health care plans," Warneke said. 
Warneke left the corporation and started teaching in the fall of 1994.
"I like having the chance to share my love and knowledge of math with students," she said.
Warneke shares that seeing a student's light bulb go on is the most rewarding part of teaching. Twenty nine years does seem long, but she says she does not regret teaching. 
"I do not ever regret being a teacher," Warneke said. "It's one of the most fulfilling jobs a person can have. Each day, your bucket is filled. I have met so many students and it is very satisfying knowing that I have played a role in their life," she said.
When leaving a job you love, you will always have those memories you made with people stick with you. Warneke says that she will miss the daily interactions with students, teachers, and administration. 
"Our math department is a fantastic group of teachers," Warneke said. "We had a lot of fun with each other both at school and outside of school," she said. 
All good things have to come to an end, but why should they come to an end? 
"It is time for a change," Warneke said. "I need to start slowing down with life. I still plan on teaching a class or two at Metro CC and/ or UNO, but won't have all of the other tasks that have been on my plate for the last 29 years," she said. 
Warneke says that she would like to spend more time just relaxing, playing pickleball, and traveling with family. 
"Teaching at Millard South is not a place I 'work' at but the place where I have had the pleasure and opportunity to spend the last 29 years," Warneke said.