The Final Battle: Seniors play one last game
Water guns, umbrellas, and chaos. The class of 2023 has been on the hunt in a senior assassin game that has lasted for two months. The game consisted of nearly 80 seniors in a battle to be the last man standing for a over $300 cash prize. 
The game ended with a climactic battle between two prominent seniors: Isaiah Rasmussen and Amari Lang. The final showdown was made even more dramatic in that the final two had previously been in an alliance throughout the game.
"I had an alliance with two other people," Lang said, "Isaiah Rasmussen and Braytn Nespor, and I kept Isaiah alive while he killed everybody."
The stage was set for the final battle and on April 27 the two met to settle the score.
"Amari and I were kind of like playing cat and dog in the parking lot," Rasmussen said. "She had to go down for an interview on the track and I was just waiting outside her car," he said.
Lang was trapped and needed to find a way out.
"I was locked in my car for like 15 minutes," Lang said.
"Then I just slightly rolled down my window and just shot my water gun up in the air. And it got him. He was trying to get me but I realized that if I was going to get him out I was gonna have to find a way to do it," she said.
And with that, Amari Lang became the class of 2023 senior assassin champion.
"I did not expect to win. I really didn't," Lang said, "I thought it was just going to be more of like a fun thing to do with all of my friends."
The winnings were ultimately split between the two friends and the rest was water under the bridge. 
The mastermind behind it all was Cam Kozeal. He had the idea for senior assassin after a chaotic event in Nashville.
"I was in Nashville, Tenn,, staying with some family friends," Kozeal said. "One morning I woke up to these people running throughout the house. I thought we were being robbed. And then I asked him what it was and they said it was like a game and they called it 'senior assassin,'" he said.
There are many variations to the rules of senior assassin as every school does it differently. Kozeal said he decided to make the game as simple as possible. The rules were: 1) To get someone out you must spray them with water from a water gun, 2) to defend yourself you may use an umbrella but nothing else, 3) the only safe zone is inside school, and 4) do not break the law.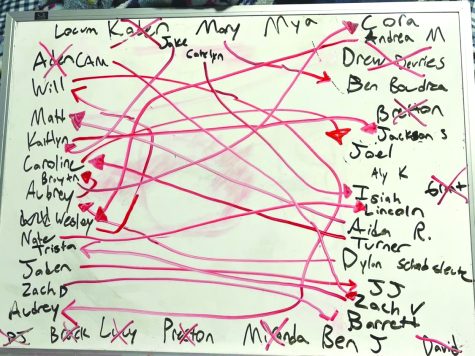 Barrett Luce was in charge of operating the game from behind the scenes, affectionately called "the gamemaster."
"Everyone paid $5 to play," Luce said, "So everybody had a target, and once they got their person, they took their target's target. So it just was kind of a self feeding system. The winner would receive the pot."
With everyone paying $5, the winnings pot quickly grew to over $300, leading some to join for an easy payday. "I saw it as an easy way to turn $5 into like $300," Rasmussen said.
Rasmussen made it far through the game as an experienced assassin, getting 11 seniors out of the game. 
"My favorite kill was probably Aiden Robertson," Rasmussen said, "He was my second kill. I had to wait outside his house for like, probably a combined five hours."
One senior had another strategy for staying alive. "No one really knew where I lived," senior Dylan Schiessler said, "And I kind of just laid low. I was definitely camping." Schiessler committed zero eliminations, but made it all the way to fourth place.
The beginning of the game was complete chaos as seniors began dropping like flies. The first senior out was Aden Williams, and despite his desperate attempts to gaslight his way back into the game, Williams would later be proven to be eliminated by security footage.
Gamemaster Luce had to walk a tightrope making sure that controversies such as this did not destroy the fun of the game.
"I think it was hard to please everybody," Luce said. "There's 70 Different people with 70 different ideas. And with, like, $360 on the line, it's pretty difficult because some people wanted to win so badly that they were willing to complain about things that weren't really an issue," he said.
Nonetheless, the class of 2023 came together to pull off a complicated event.
"I think our class is just unique," Kozeal said. "We all come together really well. It got a lot more people asking about other people in the class. Athletes were talking to other people and vice versa. So it really brought the class together that was already really close."