Since March 17, the world has been rocked by war, disaster, and Taylor Swift.  
That date marked the first night of the Eras Tour, and, from the scramble to get tickets to the drama of finding the perfect outfit, the tour has earned a lot of traction. Every video of the concert seems to go viral, and everyone you know and their grandma scored the perfect seats, but what's this tour really about? Overwhelmingly, the reviews have been positive, with people explaining that not only was the concert itself wondrous, but the general vibe was incredible. 
"It was like feminine power," sophomore Morgan Vincent said. "And like being yourself, and no matter who you were, you were able to enjoy the concert," she said.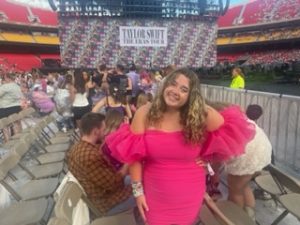 "It was chaotic, to be honest, but it was pretty cool because everyone there loved Taylor a lot," junior Kyra Fowler said.  "It was like a big group of friends and it was really fun," she said.
This impossibly popular tour is described as an expedition of sorts through the Taylor timeline, her  'eras.' The first era- in chronological order of release- is her debut album, "Taylor Swift." Perhaps one of her more popular albums, Taylor Swift was released in 2006, running at 40 minutes and 28 seconds with 11 songs. Next comes Fearless in 2008, ranked fifth most popular, with 13 tracks. Fearless, unlike the debut album, was rereleased in 2021 with thirteen extra songs. This album was released with the new title, Fearless (Taylor's Version). 
Re-recording the album meant that Taylor herself owned it, which had many benefits, including the fact that she could authorize its use in movies and commercials.
"
It was like a big group of friends, and it was really fun.
— Kyra Fowler
In 2010 came Speak Now- the latest re-release- which is in eighth place in terms of popularity, and has 14 tracks. The next to arrive was Red, first released in 2012 but rereleased in 2021. Red is in third place. In 2014: 1989, ranked in second place, with 13 tracks. Then Reputation in 2017. Reputation was a complete 180 in terms of musical style and is ranked in seventh place. In first place is Lover, which has 18 songs and was released in 2019.  In ninth and tenth place, respectively Evermore and Folklore. Both were released during quarantine. 
Among the population of those who attended the tour, some went with significant others, some with friends, some with family, and some alone. Vincent went with a friend. 
"I went with my best friend," Vincent said. "I wanted to go with her because she's my best friend and one of my favorite people in the world. It was so much fun," she said.
Fowler went with her family. 
"I went with my mom and my sister," Fowler said. "It was an early birthday gift for my sister," she said.
To some, Taylor Swift is more than just a musical artist. 
"To me, she represents, like, I like how the songs go through life," Fowler said. "Like through all the phases of her life and stuff like that. Everything is so personal, so that even if you don't really like Taylor Swift there's always a song you can relate to," she said.