In sports, every game is seen as important and is played with an all-out effort. However, in the playoffs, a team's entire season rides on being able to play their best in order to advance and keep the season alive.
This week the first round of the playoffs took place with the 15th-ranked Navigators of Lincoln North Star traveling to Buell Stadium to face the 2nd-ranked Patriots of Millard South with the Patriots taking care of business with a 38-0 victory over the Navigators to advance to the quarter-finals of the state playoffs.
The Patriots finished the regular season with a record of 8 wins and 1 loss to grab the second overall seed in the playoffs while the Navigators barely snagged a spot in the postseason with a record of 5 wins and 4 losses to earn them the fifteenth overall seed out of sixteen in the postseason. The teams met earlier this year in week five with the Patriots emerging victorious with a score of 57-10. 
With an unusual kickoff time of 4 p.m. and the cold temperatures, both teams struggled to get on the board in the first quarter. Finally, with 3 minutes left in the first quarter, the Patriots scored a field goal to go up 3-0.
The Patriots got the offense going in the second quarter as they managed to put 2 touchdowns up on the board to extend their lead to 17-0 at halftime.
The Patriots started off the second half with a scoring explosion as they put the ball in the endzone on three separate occasions in the third quarter to extend the lead to 38-0 at the end of the third quarter.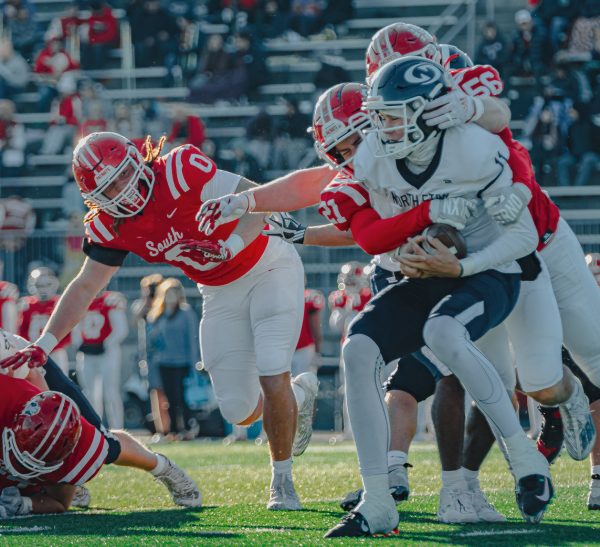 The scoring slowed down immensely in the fourth quarter as neither team was able to put the ball in the endzone again. As the clock ran out the Patriots won with a score of 38-0 to advance to their second straight quarterfinals.
The season is officially over for the Navigators as they finish their season with a record of 5-5.
The dreams of a trip to Memorial Stadium and a state championship will continue for the second-ranked Patriots as they prepare to face the ten-seed Vikings of Omaha North next Friday at Buell Stadium with an 8 p.m. kickoff. The Vikings defeated the seven-seed Dragons of Gretna with a score of 35-34 in their thrilling double-overtime victory in their round one matchup. 
The matchup will most certainly bring back memories for both teams as the last time these two faced off was the first round of the 2021 playoffs. In that matchup, it was the Vikings who pulled the stunning upset over the then-number-one ranked Patriots. This will definitely be one of the most intriguing matchups when these two face off in the quarter-finals on Nov. 3.