Millard South Freshman Team
Ryan Lawrence
Jacob Reinhardt
Max Aden
Staff Reporters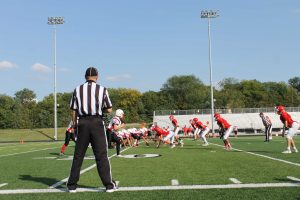 Football exists at multiple levels and is played on multiple days. It's not just varsity under the Friday night lights. JV plays during early Saturday mornings and reserve plays under the hot Thursday afternoon Sun. And on Tuesdays, plays a fierce freshman unit that displays plenty of promise for the future of Millard South's football program.
The freshman A team outscored their first two opponents one hundred and seven to nothing, and caught lots of attention. T.J. Urban, Beau Wendt, and Sincere Brookes were main contributors to the team's success.
T.J. Urban, the quarterback for the formidable bunch, said he felt the key to success was their work ethic. "We try harder than every other team," Urban said. with confidence. Brookes agreed saying, "We take no plays off and we always fly to the ball."
Even with their work ethic and impressive offensive and defensive achievements, everyone agrees that there is always room for improvement. Beau Wendt said he felt the team could be closer. Beau felt the team could work on chemistry. "We could use more teamwork, says Beau, we could always be a better team, and teamwork is a major key to that."
"You can never underestimate a team with good chemistry." says coach Renken, head coach of the A team.