Board votes to cut French and German from middle school offerings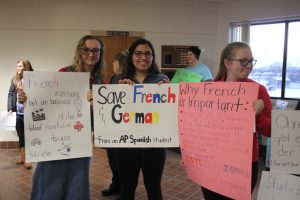 by Kristin Kaipust
"This plan is not about eliminating world language in our school district, and in fact this might be an opportunity for our students to experience more world language than they currently do," Superintendent Jim Sutfin said addressing the teachers, parents, and students gathered at the Board of Education meeting Feb. 5.
"If you start with us in 6th grade, we are going to guarantee three years of Spanish, at the end of your eighth grade year, you can select to continue on with Spanish or you could choose to go into a different language," he said.
The proposed plan to transition Millard middle schools into a 7 period day was approved. The plan does not directly affect high school, but at the middle school level, reading and English will be moved into one class period and French and German won't be offered.
The removal of French and German faced much opposition in the district. Students such as Alli Lueders of Millard West spoke in front of the board offering wisdom such as "the limits of my language are the limits of my world."
With a total of 14 speakers, the board was addressed with concerns for programs such as Early College (South) and International Baccalaureate (North) as well as the opportunities for future students.
"Even in the best of budget times, this is my recommendation. Our students are voting with their feet by what courses they select," Sutfin said.
Ultimately, the board voted to pass the plan with an amendment offering French and German exploratory classes in 8th grade. The district plans continue to offer paths to AP French and German as well as prevent language teachers from losing their jobs.