Local Band 'Nautilus' Plays Debut Show
Alyssa Soppe
Editor-in-Chief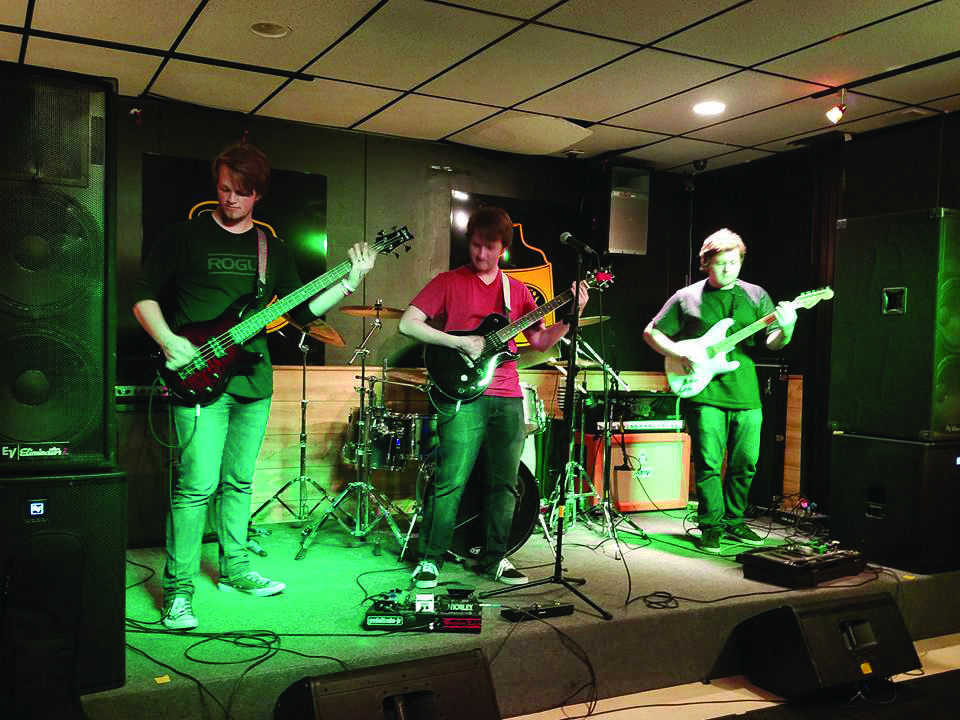 It was an interest in zoology and a love of music that brought together instrumental progressive metal band Nautilus.
"I took Zoology and the nautilus was my favorite cephalopod. You'll notice that a lot of our music has to do with astrophysics because Austin and I took Astronomy and it blew our minds," guitarist Nick Kizlin explained. After forming only five short months ago, local progressive metal band Nautilus has penned more than eight original songs with titles such as "Orion's Nebula" and "Dark Matter". The scientific implications are very clear.
Composed of Millard South seniors Kizlin, Austin Stull (bassist), Eric Ritonya (guitarist), and UNL student Shaun Miller (drummer), Nautilus has managed to transcend the struggles that many young musicians and groups face, such as creating music that is enjoyable to listen to and selling themselves and their work to venues so that they can share their creations with the world. The group performed their first show at Shamrocks Pub and Grill on Aug. 26.
"Nick and I used to be in a band when I was in high school a couple of years ago," Miller explained. "He eventually came to me and said he needed a drummer for a new band starting up and I was interested." Kizlin recruited Stull in a similar manner.
After all of the members had become a part of the band, the name "Nautilus" was chosen.
Nautilus rehearses one time per week as an entire band for anywhere from one to five hours at Ritonya's house, and each band member practices on his own every day. Nautilus raised their number of group rehearsals to 3 times throughout the week before their first show, attempting to perfect their set list as much as possible.
"The first show was fun," Stull said. "It sounded like we did better than the guys doing sound and everything were expecting based off of their responses afterwards," Stull said.
Miller expressed his enthusiasm about their first show as well.
"My favorite song to perform is probably Orion's Nebula," Miller explained. "There are lots of dynamic changes and I get to do some cool drum things."
Nautilus has a purely instrumental sound, meaning that there are no lyrics to any of their songs.
"Our sound is a mix of several things," Miller said. "Nick and the guys are interested in a lot of progressive, harder metal that I generally don't listen to. I mostly play Metallica or music of the like, so my drum patterns are reminiscent of more classic metal, while the guitars are doing a lot of melodic metal and some really cool modal stuff. So our sound comes out to be mostly guitar driven. I play pretty simple beats in order to give the guitars the attention."
However, this interesting tidbit of information about the band is also one of their biggest challenges as artists.
"Creating music that people want to listen to without using lyrics is one of our biggest challenges. Sometimes it's harder to connect to songs when you can't sing along, but I think the guys are doing a good job," Miller stated.
Nautilus finds most of their inspiration from artists like Periphery and Tremonti, but the members also enjoy listening to bands such as Daughters of Mara, Metallica, and 10 Years.
In the near future, Nautilus plans on recording their first EP together using Miller's own recording equipment before the members split off for college.
"I just want to keep playing with these guys," Stull said.