Making strides
Juniors find their passion as 'soulmates' in shoe business
Running a business is hard enough being an adult. Imagine how much harder it would be if you were a high school student, going to school 5 days a week with 4 classes a day, with homework every night piling on top of all of that. So how do you do it?
It started with an idea thought up between juniors Devin Danoff and Caeden Sievers. The idea of reselling shoes was shared between them, but Danoff began to make that idea reality first, starting the business separate from Sievers.
"Over quarantine I got bored and wanted to make some money, so, I started sellin' shoes," Devin Danoff said at 13 years old, he started on Facebook Marketplace.
There, he would buy shoes from people, flip them, and then sell them to others. 13 year-old Caeden then decided to join Devin, making even more money as they began to do this together. At this point, they were making quite a bit to start off. The pair said they started this entirely on their own, without the help of any adults in their lives.
"My mom hasn't given me a dollar," Danoff said. All by themselves, they created something most adults can only dream of.
After a few months of running the business from their houses, a man named Anthony Kellogg, or "A.K.," the owner of 365 Store, hit the two up, saying that he needed some resellers in his store at 1517 Farnam St. in Downtown Omaha.
"We came down there with our parents and checked it out, signed some stuff, and now here we are," Danoff said.
With this new environment, their business began to boom. People started seeing these two young entrepreneurs run their business, and it's safe to say they were intrigued. Danoff and Sievers were getting the most business they had ever gotten. And they loved it.
However, it's important to know that the owner of the building owns and runs his business in the building, however, Danoff and Sievers sell and buy their shoes separately from that business. They use the space provided, but the money they make goes to themselves.
Now the two juniors are there every day after school and also working every weekend. As to how they handle balancing work and school, Danoff said that he "focus(es) more on the business than school." While Sievers said that he does try to keep up with school and balance everything and that time management is key.
Overall, the number of hours they work a week is about 24. After a couple years, they've gotten pretty good at what they do. Their method of buying and selling shoes is relatively the same.
"Either online, we know a few people, or people just come in the store tryna sell shoes," Sievers said.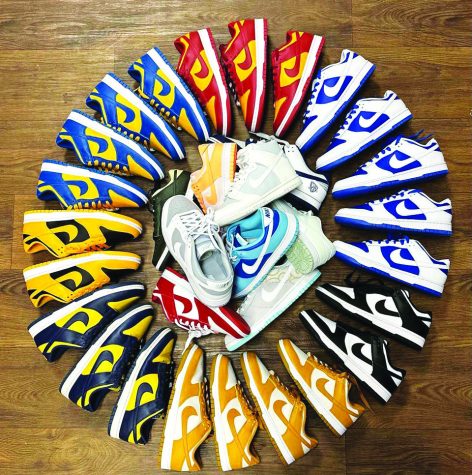 The process starts when people selling shoes on either Instagram or Facebook marketplace reach out and ask if Danoff or Sievers are interested in buying. If the two juniors believe that the shoe is able to be cleaned, fixed, or is a potential sale, they buy them. The shoes are either shipped to the store, the seller comes to the store, or they meet the seller somewhere. At that point, they clean the shoes, replace shoelaces, etc.
After this, they put the shoes out on display, or post the shoes on their own instagram or their Facebook marketplace page. When people are buying from them, usually they come to pick the shoes up in the store. There have been a few cases where people from out of the state want to buy some shoes, so they will package the shoes, put on the labels and the stickers and the stamps, and send them off.
A day at the job looks something like this, according to Danoff.
"I get there, sit on the couch, wait for someone to come in, once they come in, lil' salesman Devin comes out, [and I] try and sell 'em a shoe."
Their biggest struggle so far has been consistent foot traffic, or having consistent customers come in. That being said, they say they still get great business. With both of them now being 17, it's safe to say that their future is bright and profitable. Managing full-time school with anything is difficult, but juniors Devin Danoff and Sievers have been able to do it since freshman year.
For anyone wondering if making money and focusing on school is manageable, they just look at these two. They're an inspiration for students thinking about how they can start saving and making.