'Archive 81' a captivating, complex series
Gabe deBernardeaux senior contribution
An archivist takes a job restoring damaged videotapes and is pulled into a twisted mystery involving a Phd candidate, her legacy, and a terrifying cult that leaves him questioning his sanity. This new addition to the Netflix original pantheon left me awestruck by the complexity of its two intertwined storylines.
Dan Turner, an archivist, and one of our main characters is hired by a mysterious corporation to restore a set of tapes. As he watches through these he begins to feel a connection to Melody Pendras, their creator, that deepens as he progresses through each tape.
Mamoudou Athie (Dan Turner) is seen in other works, most notably "Jurassic World: Dominion" which will be released in June 2022. Other appearances include, Sorry For Your Loss, and Underwater. His costar Dina Shihabi (Melody Pendras) has also had roles in some prominent shows; such as Tom Clancy's: Jack Ryan, and Altered Carbon. Both of these actors' performances were amazing on "Archive 81." I hope to see where their careers go in the future.
The best way to describe watch- ing Archive 81 is totally and completely mind-warping; just as you think you found stable ground, it's ripped from beneath you, leaving you fumbling. One of the best parts of "Archive 81" was its ability to keep you on edge throughout the eight-episode series even when nothing necessarily "scary" is happening. They rarely utilize gore, but when they do, it is completely terrifying. This is one of my favorite shows of 2022, and I would love to see this show get renewed for another season.
In essence, this show is a must- watch, and I highly recommend it to anyone. "Archive 81" is a show that manages to be scary through this ever-present feeling of something being wrong, which is what makes it such a captivating thriller.
Gabe deBernardeaux is going to UNL to study biochemistry
Leave a Comment
About the Writer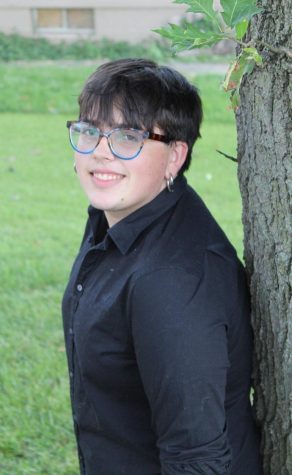 Gabriel deBernardeaux, Staff Reporter
Gabriel deBernardeaux is a senior at Millard South High School and a first-year member of the newspaper. Outside of school, he enjoys sewing, crocheting,...