Valuable lessons from Haley
Throughout high school, I've been known for my extensive music involvement, failed track career, and membership in numerous clubs and organizations. I've worked as a cashier, food prep, set designer, and retail lead. I've done a lot of things in four short years, the one I'm most proud of is my self-appointed barista job. For senior year I decided to step out of my comfort zone and join the newspaper staff. I got to explore writing different types of articles and found a love for making infographics. During the first few weeks, the staff bonded over a love (need) for caffeine. When the newspaper staff discovered that the luxuries of Keurigs and K-cups were not going to be cost-efficient or environmentally conscious for the 37 weeks of this school year, someone had to step up and learn how to use the ancient Mr. Coffee. I am this unpaid barista.
In dire need of caffeine, I trained myself in the art of making the most unimpressive cup of coffee. It starts with scooping coffee grounds out of a questionable ziplock bag that a fellow staffer generously donated into the coffee filter. The number of scoops doesn't matter because it'll taste bad either way. Then I make my way over
to the water fountain to fill the pot, have an awk- ward conversation with the bathroom security guard, and stroll back to the journalism fortress of solitude. After a few minutes of nothing, I remember to plug the machine in. Ten minutes later you have coffee, or at least something close
to it!After four years of high school, you'd think I'd have more to say and reflect on. Sure, there are probably a few other things I can take away from my time here, but the most important thing I learned is how to make a bad cup of coffee. It's a useful skill to have.
Unlike a lot of high schoolers, my need for caffeine didn't even start until senior year. Since this was my last year of high school I thought I'd go out with a bang and be a part of every club, group, and event I could. Being more active in school and picking up more hours at work made sleep harder to come by. That tasteless newspaper coffee every other day was the only thing keeping me going. I don't regret getting more involved, I made tons of memories and felt recognized for the things I accomplished. I won't remember every detail about chemistry 10 years from now, but I will remember having wheely chair races in the hallways and my choir director's car that was plum crazy purple.
While most of my high school experience was spent worrying about people's expectations and academic success, those worries were diluted by my senior year. No matter how much I want to deny it, the girl who walked in here freshman year is not the same girl getting her diploma this month. As my life has changed, so do my priori- ties. Yes, grades are important, but so are experiences. I'm only in high school once, so this year
I chose to make the most of it. I balanced school, work, and activities, but saved myself time to go out with friends and do things at school I'd never done before. Taking one night out of the week to go watch a basketball game or see a school play can turn into some great memories. It's okay to prioritize yourself. It's okay to have fun and stay out late. Part of growing up is having experiences to learn from and look back on. Have fun today, and worry about things tomorrow. And if my nights clas with my early mornings, at least I know how to make a good pot of the worst coffee.
Haley Johnson is attending Wayne State to study Music Industry
Leave a Comment
About the Writer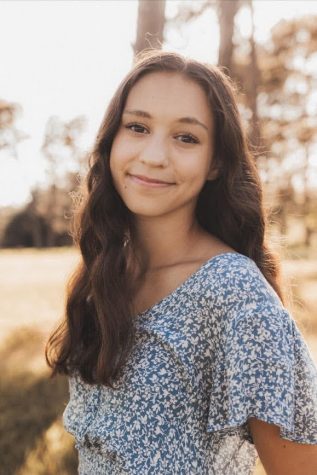 Haley Johnson, Business Manager
Haley Johnson is a senior, and this is her first year on the Common Sense staff. She is in Chamber orchestra, Singers, and National Honors Society. She...