Wise words from Joey
Joseph Kaipust senior column
My experience in high school activities was characterized by frequent, borderline constant failure to meet the expectations placed upon me.
Frequent late arrivals to meetings. Frequent no arrival to meetings. Definitive underachievement and mis- handling of leadership positions I was placed in. Newspaper stories written two weeks after the deadline (this one included).
The list of sponsors and peers I disappointed throughout my years here is concerningly extensive. I proudly bear the titles of "Worst NHS Officer," "Laziest SCB member," and "Worst StuCo member" as if they are the crown jewels on my coronet of failure.
"
Joseph Kaipust is attending UNL to study Electrical Engineering
As for the younger version of myself, he tried very hard to feel some sort or shame or remorse for his shortcomings. But as I shed the veil of uncertain youth and stepped into a state of self-actualized confidence, I finally came to terms with how I felt about these things. In an admittedly very twisted way, I just didn't feel bad. While my apathy towards these things was perhaps a tad villainous, I was also grateful for the opportunity to have understood myself better. Being in and taking leadership positions in these activities was really just me trying to walk a path that wasn't paved for me. Shockingly, there were actually areas in high school where I consistently succeeded and met expectations.
In sports, I was a four-year three- sport athlete. I never missed a practice without a valid reason and through my four years I consistently improved, challenged myself, and competed at a level I was proud of. In academics, I maintained a perfect unweighted 4.0, took challenging classes, and furthered my education in a meaningful way.
It really was just activities where I couldn't bring myself to do anything positive, and upon considering that, everything made sense to me. Common knowledge states that you should be on the Student Council, and you should be an officer on the National Honor Society. But common knowledge isn't as common to everyone as the name suggests. For me, these activities were something I just felt no passion for and didn't care about, and it took me too long to admit that to myself.
To the reader, I advise that you don't continue to spend time trying to care about things you have no passion for. Finding what you actually care about is going to be what takes you places. For me, that's where I found my true success and my true meaning.
Leave a Comment
Donate to We Are Millard South
Like what you see here? Your donation will support the student journalists of Millard South High School. Your contribution will allow us to purchase cover most of our annual website hosting costs.
About the Writer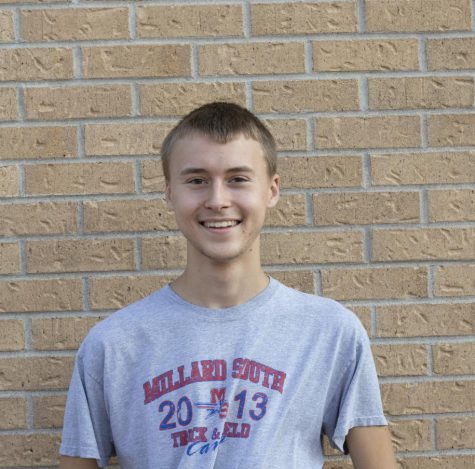 Joseph Kaipust, InDepth Editor
Joey Kaipust is a senior and third year newspaper staff member. He is also interested in sports and competes in Cross Country, Swim, and Track.